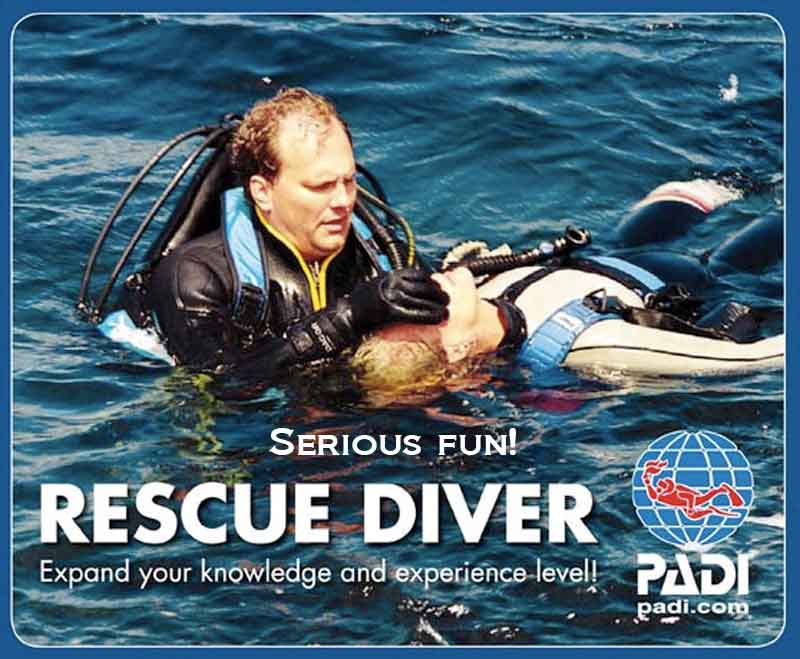 Rescue Diver and EFR – Learn to respond in an emergency situation on the surface and under the water. Expend your knowledge of diving, increase your level of diving skills and become aware of what is happening around you in the diving environment.
CPR and First Aid: Emergency First Response Primary and Secondary Care
First aid and CPR are good skills for anyone involved in adventure sports – just in case. And, you need these skills for the PADI Rescue Diver course.
Emergency First Response is a PADI affiliate that specializes in teaching these lifesaving skills – and they're for anyone, not just divers.
It can happen every day that someone just needs help while others will die or suffer serious permanent injury if not immediately attended to. Once you became Emergency Responder, you can control the scene of any medical emergency whether someone cuts his finger in the kitchen, someone collapses from a heart attack, two cars collide injuring the occupants or a diner at the next table chokes on food, unable to breath.
What You Learn in the EFR Primary and Secondary Care Courses
• BLS (Basic Life Support) CPR and rescue breathing at the layperson level
• AED (automated external defibrillator) use (optional)
• Preventing and caring for shock
• Spinal injury management
• Use of barriers to reduce disease transmission risk
• Basic first aid and first aid kit considerations
The PADI Rescue Diver Course
There are several good reasons for wanting to become a PADI Rescue Diver. Rescue training expands your knowledge of diving, increases you level of diving skill an makes you more aware of what is happening around you in the diving environment. It is also important prerequisite for the PADI Divemaster rating and PADI Master Scuba Diver certification. Most importantly, rescue training can help you save lives and increase diving safety by preparing you to respond properly to diving emergencies and near-emergencies.
Course overview
Topic areas include: First Aid for Diving Maladies, First Aid for Marine Injuries, Emergency Procedures, Rescue Equipment, Panic Syndrome, Distress Recognition, Self-Rescue, Rescue Entries and Approaches, Use of extensions and Floats, Assists, Transporting, Submerged Diver Rescue, Missing Diver Procedures, In-Water Artificial Respiration, Equipment Considerations, Rescue Exits, Accident Recording and Reporting.
Course time: 4 days
Content: 5 water sessions over which you will complete 10 exercises and 2 scenarios
Prerequisites: PADI Adventure Diver certification (or have a qualifying certification from another organization), be trained and current for first aid and CPR within the previous two years
Minimum age: 12 years old
Next Step: Master Scuba Diver or Go PRO PADI Divemaster
eLearning by PADI available if you want to start the course by internet and finish it with us once you are on the island!
Convenient online access to knowledge development course material
Unlimited and unrestricted access to an online version of the PADI Rescue Manual
At your own pace complete knowledge assessments
Payment for eLearning is done via a secure online payment system. There are additional charges for in-water training and equipment rental