We offer all PADI programs:
Skin Diver or Snorkeling, Discover Scuba Diving program, Open Water Diver and Scuba Diver, Advanced Open Water, Rescue diver, Divemaster, Assistant Instructor…
We are prepared to offer you all these -and more- by sharing with you our experience which leans on more than 30 years of hard training and teaching in the Greek special forces, working on oil platforms, taking part to rescue operations and organizing diving trips. Between safe and fun is an unbreakable liaison. Become a diver by attending the PADI courses. Learn to dive safe and responsible with professionals while having fun, discovering and experiencing the underwater world which will never stop fascinating you. Between dreams and reality it's just a small step so go further and take your license, start exploring by your own everywhere around the world. For beginners the courses are taking place in a safe and friendly environment, in the swimming pool or to the sea side when the weather allows, in swallow, well known places, under the direct and continuous supervision of our instructors.
Are you already a diver? Did you think to improve your skills? Perfection is not a human feature but we must never stop learning. Do you think it was interesting until now? More and more is waiting for you. Learn navigate, search and recover, improve your buoyancy techniques, dive deeper, capture in a professional way your underwater memories in pictures and movies, explore wrecks and caves. Did you enjoy the marine life during the day? Learn how to discover its habits and diversity in the night, in a new light. Meet new species and learn to recognize, protect them and yourself. Find out how to dive longer by taking your first breath of air with more than 21% oxygen. Everything is fun, pleasant and safe when you know the laws that it operates on, so learn the physics of diving, find out the history so to not repeat the same mistakes. Learn to respond in an emergency situation, learn communicate, solve a wide range of issues and – why not? – lead other divers.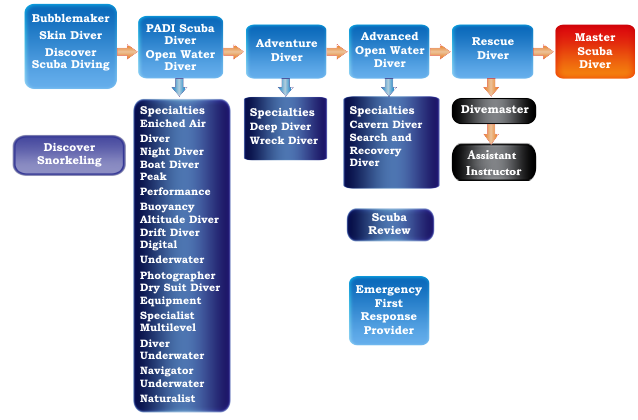 Step into the "extreme" side of diving with Technical diving which is taking experienced and qualified divers far deeper than in mainstream recreational diving.

Do you want to make the course while you're in holiday but you think time is not enough? Sign-up for the e-Learning program. Study the theoretical part home in your own pace and come to us for the dives. You are welcome in our virtual classroom online on PADI's e-Learning section.