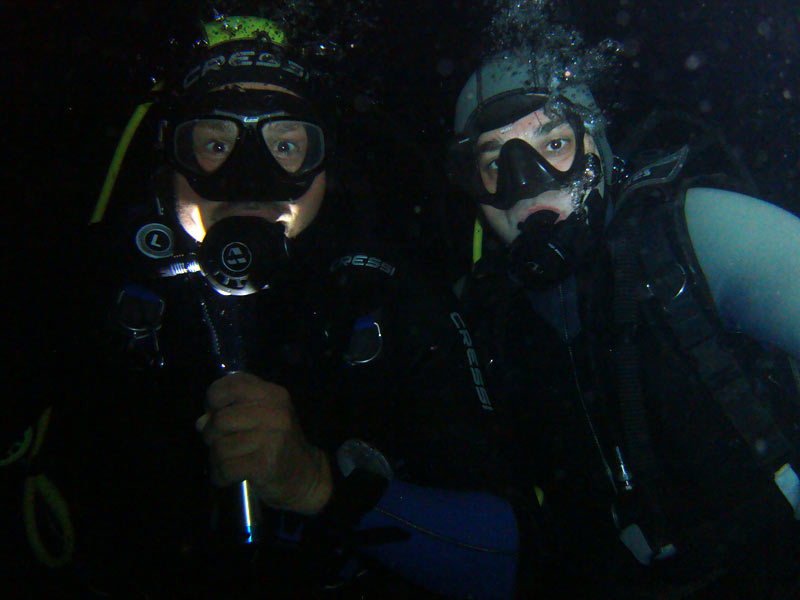 AOW – Advanced Open Water Diver and the specialties represents the next step. You will learn navigate, search and recover, improve your buoyancy techniques, dive deeper, capture in a professional way your underwater memories in pictures and movies, explore wrecks and caves.
Did you enjoy the marine life during the day? Learn how to discover its habits and diversity in the night, in a new light. Find out how to dive longer by taking your first breath of air with more than 21% oxygen (Enriched Air NITROX specialty). You can choose any of them or others.
Exploration, Excitement, Experiences. They're what the PADI Advanced Open Water Diver course is all about. And no, you don't have to be "advanced" to take it – it's designed so you can go straight into it after the PADI Open Water Diver course. The Advanced Open Water Diver course helps you increase your confidence and build your scuba skills so you can become more comfortable in the water. This is a great way to get more dives under your belt while continuing to learn under the supervision of your PADI Instructor. This course builds on what you've learned and develops new capabilities by introducing you to new activities and new ways to have fun scuba diving.
You'll hone your skills by completing five adventure dives that introduce you to:
• Underwater navigation
• Deeper water diving (typically anywhere from 18-30 metres/ 60-100 feet)
• A sampler of three more Adventure Dives of your choice
One reason you'll love the Advanced Open Water Diver course is that you and your instructor choose from 15 types of Adventure Dives to complete your course. You can try your hand at digital underwater photography, wreck diving, , diving with underwater scooters, peak performance buoyancy and much more.
What You Learn
The knowledge and skills you get in the Advanced Open Water Diver course vary with your interest and the adventures you have, but include
• Practical aspects of deep diving
• Physiological effects of deeper scuba diving.
• More ways to use your underwater compass
• How to navigate using kick-cycles, visual landmarks and time
• How to better use your dive computer and electronic Recreational Dive PlannerTM (eRDPTM)
• And much, much more, depending on the Adventure Dives you choose
he Scuba Gear You Use
You use all the basic scuba gear including your underwater compass. Depending on which three adventure dives you pick, you may also try out underwater photography equipment , DPVs (underwater scooters), a dive light a dry suit, lift bags, a dive flag/float or other specialty gear.
Course time:3 days
Content: 5 open water dives.
Maximum depth allowed: 30 meters/100 feet
Prerequisites: A PADI Open Water Diver  (or qualifying certification from another training organization);
15 years old (12 for Junior Advanced Open Water Diver)
Next Step: Rescue Diver
eLearning by PADI available if you want to start the course by internet and finish it with us once you are on the island!
Convenient online access to knowledge development course material for one year
Unlimited and unrestricted access to an online version of the PADI Adventure in Diving Manual
At your own pace complete knowledge assessments
Payment for eLearning is done via a secure online payment system. There are additional charges for in-water training and equipment rental