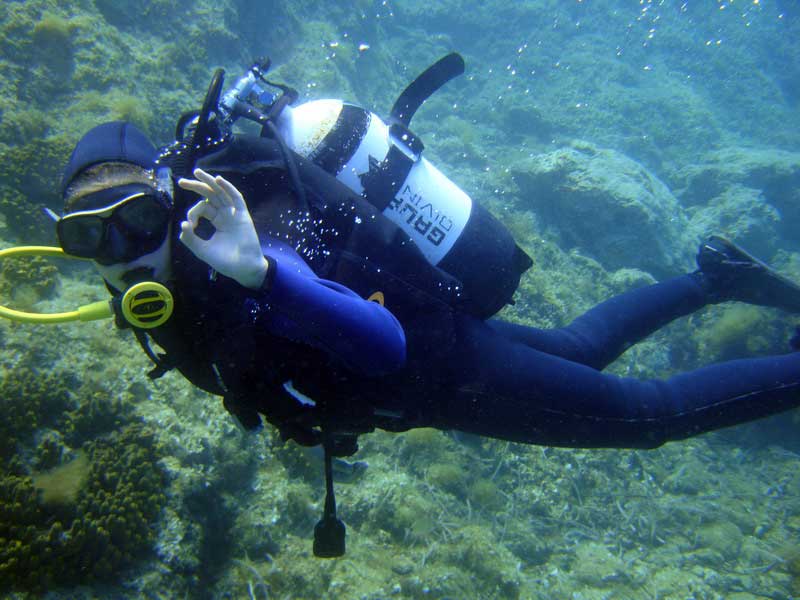 Get Certified! PADI Open Water Diver Course
Get your PADI scuba certification. If you've always wanted to learn how to scuba dive, discover new adventures or simply see the wondrous world beneath the waves, this is where it starts.
Open Water Diver is the first diving certificate which allows anyone who owns it to dive anywhere in the world by himself.   The required and recommended time is at least 4-5 days. It is the world's most popular scuba course, and has introduced millions of people to the adventurous diving lifestyle. Start your scuba certification online.
What You Learn
The PADI Open Water Diver course consists of three main phases:
•    Knowledge Development (online, home study or in a classroom ) to understand basic principles of scuba diving
•    Confined Water Dives to learn basic scuba skills
•    Open Water Dives to review your skills and explore!
If you've tried diving through a Discover Scuba Diving experience or resort course, the skills you learned may be credited towards a portion of the full PADI Open Water Diver course certification.
To enroll in the PADI Open Diver course or Junior Open Water Diver course, you must
•    Be 10 years or older (PADI eLearning requires a minimum age of 13 years due to international internet laws)
You will have a great experience because learning to dive is incredible. You breathe underwater for the first time (something you'll never forget) and learn what you need to know to become a certified diver. During the course, you'll make five swallow, confined water dives and four dives at local dive sites under the supervision of your PADI Instructor.
The Scuba Gear You Use
In the PADI Open Water Diver course, you learn to use basic scuba gear including a dive computer, and standard accessories.
The Learning Materials You Need
PADI offers a variety of home-study materials for the Open Water Diver course. While eLearning is the most convenient option, you may also chose a book and DVD package or a multimedia DVD-ROM.
PADI's Open Water Diver materials cover what you need to know about basic scuba diving skills, terminology and safety procedures. For each concept you'll read a description and watch a video demonstration. Later, as a certified diver, use the course materials as a reference guide for future diving adventures and to review what you
Start Now
You don't have to wait to get going. With PADI eLearning and the PADI Open Water Diver Course Online, you can start right now. The PADI Open Water Diver Course Online lets you learn the background information you need before each dive at your own pace through friendly, interactive learning.
For more details go on www.PADI.com
Course time: 4 ½ days
Content: 5 academic modules, 5 confined water training sessions and 4 open water dives.
Maximum depth allowed: 18 meters/60 feet
Prerequisites: +10 years old, no previous experience necessary.
Next Step: Advanced Open Water Diver
eLearning by PADI available if you want to start the course by internet and finish it with us once you are on the island!
Convenient online access to knowledge development course material for one year
Unlimited and unrestricted access to an online version of the PADI Open Water Manual
At your own pace complete knowledge assessments
Payment for eLearning is done via a secure online payment system. There are additional charges for in-water training and equipment rental