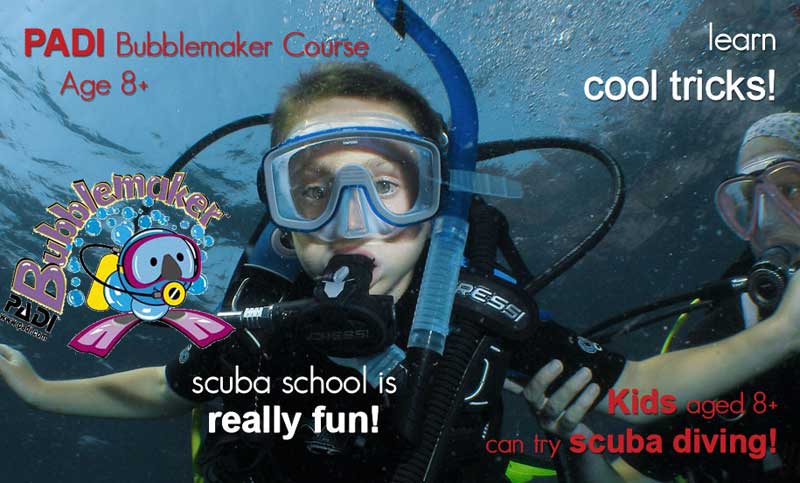 What a great way to introduce children to scuba diving in a pool in less than six feet of water. Celebrate a birthday by throwing a memorable, exciting Bubblemaker party with friends and family. It's fun, easy and safe.
The Scuba Diver certification opens the door on the underwater world for anyone who's thought that a course would take too long or be too difficult.The gain of this course, which lasts 3 days, will be a lot of fun and the perspective of a new world you just enter by learning to dive.
This course requires less time than the PADI Open Water Diver course, covering only the first three of five sections of knowledge development, the first three of five swallow water environment sessions, and the first two of four open water training dives, resulting in a limited certification. Particularly if you expect to go scuba diving primarily in the company of a dive guide or if you have limited time to devote to scuba certification, consider becoming a PADI Scuba Diver.
You can go farther on Open Water Diver whenever you want! With less time than the Scuba Diver course takes, you can make the jump to Open Water Diver certification and start scuba diving independently whenever time allows or you're up for more.
This certification allows for ample dive experience and is a good warm-up for the Open Water Diver course, if that's your ultimate goal. PADI Scuba Divers are qualified to:
• Dive under the direct supervision of a PADI Divemaster, Assistant Instructor or Instructor to a maximum depth of 12 metres / 40 feet
• Obtain air fills, rent or purchase scuba equipment and participate in other diving activities as long as they have the required supervision
• Continue their dive training and complete PADI Open Water Diver certification and other courses such as Project AWARE and equipment specialty courses
What You Learn
All the basics of scuba diving through knowledge development, a set of scuba skills in the pool like environment that you'll use again during open water dives, and an appreciation for the underwater world that will keep you coming back for more bottom time every chance you get!
During the course you'll cover material and practice skills such as:
• Buoyancy skills including comfortable ascents and descents, and breathing underwater.
• Staying warm underwater, streamlining your swimming skills and buddy diving techniques.
• Diving environments and aquatic life you're likely to encounter.
• Preventing common problems underwater.
• An introduction to boat diving.
The Scuba Gear You Use
You'll use all the basic scuba gear and some of it may be included with your course. You may want to invest in your own mask, snorkel and fins since these personal items are a lot more fun to use when they fit properly. A buoyancy compensating jacket that holds your scuba tank, a scuba regulator that delivers air, a weight system and instrumentation to monitor depth and air supply will also be used, a scuba wetsuit .
The Learning Materials You Need
PADI offers a variety of home-study materials for the Scuba Diver. While eLearning is the most convenient option, you may also choose a book and video on DVD package or a multimedia DVD-ROM.
PADI's Scuba Diver materials provide a comprehensive overview of basic scuba diving skills, terminology and safety procedures. For each concept you'll read a description and watch a video demonstration. Then you'll jump into the pool-like environment to practice these skills with your instructor. Once you're a certified diver, use the course materials as a reference guide for future diving adventures.
For more details go on www.PADI.com
Minimum age: at least eight years old
Comfortable in the water.