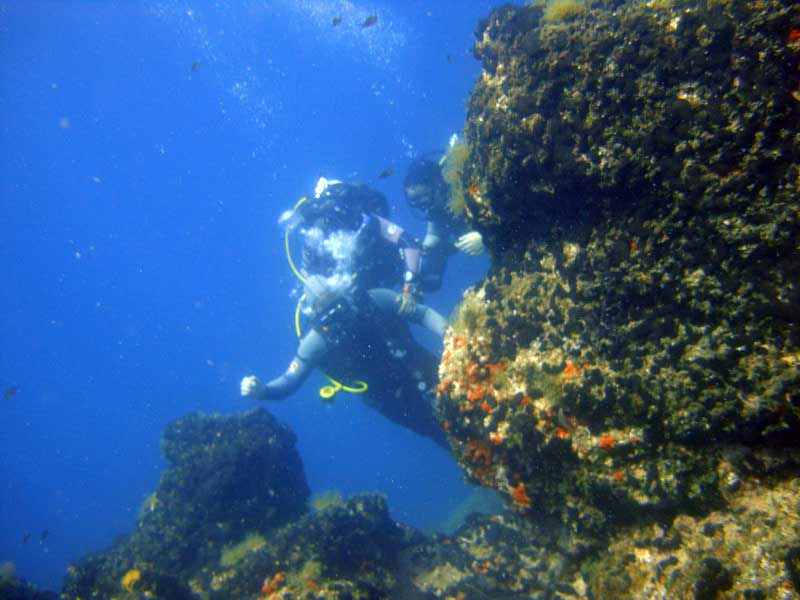 DSD – Our most popular program!
Have you ever wondered what it's like to breathe underwater?
If you want to find out but aren't quite ready to take the plunge into a certification course, Discover Scuba Diving will let you try scuba to see if you like it. Discover Scuba Diving is the most popular beginner, one day course. Allows anyone in a general good health and children above 10 years old try diving, hand by hand with an instructor. The maximum depth is 12m and during 30min anybody can have a safe and unforgettable experience, exploring the underwater world from Thassos Island. You learn the basics you need to dive under the direct supervision of a PADI Professional.
You will:
•    Learn what wearing scuba equipment feels like and how easy it is to move around underwater while wearing it
•    Find out what it's like to breathe underwater and learn whether you can be comfortable there
•    Learn some basic skills and safety rules that will carry over to your full scuba certification course when you take the next step
The program contains two sections: the first one represents the theoretical lesson which will introduce you into the physics of diving, you will find out some details about the equipment we are going to use and some skills with the meaning of making you feel more comfortable and relaxed while you are in the water and then, the second part, represents the the dive itself. First, the skills presented in the theory will be practiced in swallow water and then, hand by hand, meter by meter, we start diving until 12 meters, opening the way to the new world, the underwater universe.
There is nothing like being underwater, the sense of losing weight, the first breath from the bottle. You will never forget none of them after trying diving. After getting used with the new feelings, shortly after going in the water, everything will seem so easy even in the beginning you would have thought it might be difficult to handle with all the new things.
More, the advantage of this of program is that you don't have to worry about anything because  the PADI professional with whom you are hand by hand, will take care of everything.
Underwater pictures will be taken also and are included in the price. The only responsibility of the student is to enjoy, experience, relax and…..leave bubbles.
While not an actual scuba certification, during the Discover Scuba Diving experience you'll learn how to use scuba equipment in shallow water and get a quick and easy introduction to what it takes to explore the underwater world.
At the end of this program you will receive also a certificate that will help you go on farther and scuba-get the next PADI certification level which is Scuba Diver or Open Water Diver.
All the equipment you will need is included in the program. You'll use: a mask , snorkel and fins, a buoyancy compensating jacket that also carries your scuba tank, a scuba regulator to breathe from and instrumentation to monitor depth and air supply, a scuba wetsuit and a weight.
For more details go on  www.PADI.com
Course time: 1 day
Content: 1 confined water training session and 1 open water dive, by boat.
Maximum depth allowed: 12 meters / 40 feet, under a PADI Professional supervision.
Prerequisites: +10 years old, no previous experience necessary.
Next Step: Open Water Diver